MIF Open House 2019
03/01/2019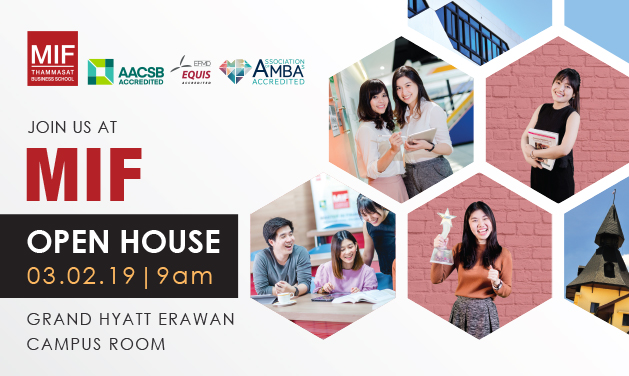 We cordially invite you to the MIF Open House 2019 on Sunday, February 3, 2019 09:00 a.m. -12:00 noon at the Campus Room, Grand Hyatt Erawan, Bangkok (BTS: Chit Lom, Ratchadamri) free of cost. Refreshments are provided. Take a few hours of your time to learn about MIF program which could be a long-term benefit for your own investment and/or your career!
During the open house session, we will inform you about the objective of the program, the curriculum, what we provide students, how to apply if you are interested. You will get to hear from professor teaching in the program, alumni, and current students.
Don't miss the opportunity!!!
Register to attend the MIF Open House 2019 at the "Register" button below.
--------------------------------------------------------------
The Master in Finance Program is revising the curriculum from trimester to semester, the term will begin in August 2019. The application period will be available in March 2019.
Persons who are interested in this program can prepare the scores of SMART-II and TU-GET to apply for academic year 2019 as the link below. Or you can use GMAT for application.
SMART-II: https://goo.gl/JJ2E6b
TU-GET: https://goo.gl/FxPthu
"Start your career in finance with Master in Finance Program (MIF), Thammasat Business School"