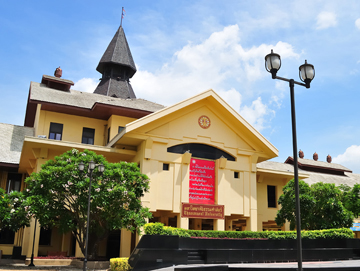 The Master in Finance Program at Thammasat Business School (TBS) is a part-time program providing opportunity for those enrolled to continue their full-time career during a two-year study. Classes are held in 4-6 weeks modules in selected evenings and during week-ends.
The courses provide a mix of theoretical and applied finance for those seeking careers in wealth management, risk management, investment banking, equity analysis, corporate finance, and regulating financial markets. For those seeking a career in advanced research, the program provides a thesis or research track that allows the student to work closely with an academic advisor on a thesis.
1. Program designed to meet the needs of professionals with both finance and non-finance backgrounds who are thinking about moving into or acquiring further in depth expertise in the area of finance. Various optional pre-courses in mathematics, statistics, accounting, and economics are provided for those without background or needing a refresher course.
2. Area electives allow students to develop a specialization towards meeting their career preferences.
3. Strong connections with top finance professionals and financial institutions in Bangkok and public lectures and alumni networking events organized regularly.
4. Exchange opportunities with other universities around the world with TBS partnership. (See http://inter.tbs.tu.ac.th, and www.pimnetwork.org)
5. Small class size and opportunities to work closely on independent studies or theses with academic faculty.